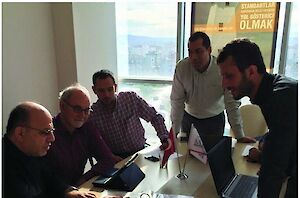 Heat Treatment Industrialists Association (MISAD) was established on 25.02.2008 with the activities of founding members Mr. A. Barış Telseren, Altan Erdoğan, Elif Coşkun, Harun Gülatma, Kenan Anıl, Özgür Savaş Özüdoğru, S. Burhan Yıldız and Utku İnan with generation number 34-148/098.  
Our Mission
For heat treatment industrialists to meet across Turkey;  
• To prepare working standards to provide basis for fair competition environment  
• To follow up up-to-dateness of current standards, regulations and bylaws and inform the members of the association 
• To develop human and management quality, and raise qualified technicians and personnel at High School and Two-year degree  
• To establish a cooperation environment with similar international organizations  
• To integrate the companies operating in heat treatment industry across Turkey  
• To issue a comprehensive inventory for the industry And to share them with related organizations 
• To organize trainings for the members about quality, production, management and materials regarding heat treatment
•To ensure an industrial cooperation with universities.  
Our Vision
In order to be a non-governmental organization organizing efficient activities for the industry; 
• To make the association a center of attraction for heat treatment industrialists and companies receiving heat treatment service by providing Industry-University cooperation and strengthening R&D activities.
Member Profile
• Companies providing commercial heat treatment service 
• Producers doing heat treatment within their own organization  
• Suppliers providing the heat treatment industry with both service, and machinery, oven, spare parts, etc.